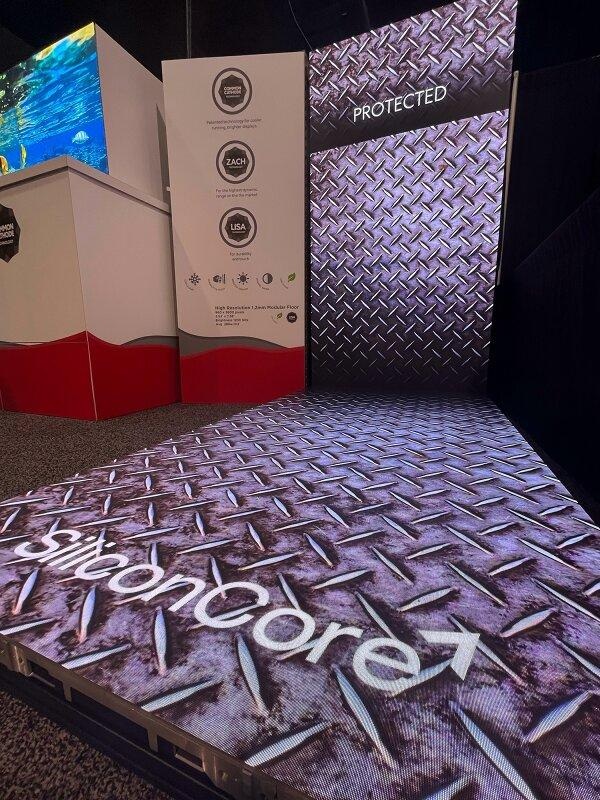 Industry LED technology leaders and innovators of CommonCathode Technology ™, SiliconCore Technology Inc., launched the world's first durable 1.2mm ultra-fine pixel pitch LED floor display at InfoComm 2022 in Las Vegas. The SiliconCore High Resolution Modular LED Floor with next generation LISA technology, is a breakthrough for the dvLED display industry, and the only durable 1.2mm floor available for fixed installation, requiring no separate overlay.

Viewers could walk directly on the 4' x 7.4' LED floor display which features a smooth non-reflective, durable, flat, water-resistant surface. The floor can handle weight-bearing loads up to 1000kg per square meter or 200lbs per square foot.

The 4' x 7.4' LED floor display was paired with a duplicate 90-degree angle wall. This combination along with creative content provided an immersive experience. SiliconCore partnered with high impact video wall content creation specialist, Render Impact, and created forced perspective 3D content which actively engaged the attendees.

Featuring SiliconCore's LISA technology, a proprietary LED encapsulation process, the display's durability and contrast increases while maintaining the LED's beneficial characteristics. This LISA enhancement offers serviceability at the modular level at greater resolutions.

The LISA protection for the floor is like no other durability technology on the market and differs from other coating processes that can cause uniformity issues. Significantly reducing the fragility of fine-pitch LED displays, the technology leaves a flat, durable, uniform surface on the PCB, while preserving the 1200 nit brightness levels.

The product release is the latest in a string of technology breakthroughs for the premium LED display and driver chip manufacturer, thanks to the next generation of its core patented LED technologies.

The next level of ZACH technology can reach low light brightness down to 0.04 nits, as well as high frame rates of 120fps and refresh rates of 3840Hz with no motion blur and sustained brightness of 1200 nits. Superior contrast ratio, low power consumption, and low operating temperatures contribute to the display's exceptional life-like image reproduction and 10-year lifespan. These technologies unique to SiliconCore enable the display to achieve the highest-performance specifications on the market, beneficial for active 3D content and simulation applications.

This highly anticipated innovation will replace technologies such as LCD, large pixel pitch solutions or projection that are limited in brightness, size, and durability. The SiliconCore modular floor will provide a more realistic, sustainable, and longer-lasting floor display solution, opening new applications not previously possible.

Visitors to Infocomm could also see the only MicroLED display capable of reaching brightness levels of 4000 Nits and cooler to the touch. The Lotus 0.83mm 4K display demonstrates the importance of color uniformity via its color accuracy technology and ability to achieve precise detailing in low brightness and dark colors.

Partnering with Zignage, content management software and playback specialists, SiliconCore displays will be able to fully take advantage of uncompressed 10-bit content.
Source: LEDinside